Anne Vercoe

Anne Vercoe B Music (ACU), Bachelor of Music Performance (ACU), Bachelor of Music Theatre and Opera, Bachelor of Arts Monash, Dip Ed Monash, Grad dip. Opera and Music Theatre VCA.
Anne is experienced in acting, having appeared on Neighbours, Blue Heelers etc and has been a singer of diverse styles for twenty years. She has appeared in Carols by Candlelight at Myer Music Bowl and many other events , both in Australia and abroad. She has produced 13 CDS , including four albums of original songs for children which were commissioned by Darshan Acadamies in Delhi, India.
"I love teaching kids and adults singing, focusing on expression and good musicality and also guitar and ukulele again, focusing on musicianship and theory. I am also experienced at acting tuition."  
Anne teaches Traditional Sing & Strum Guitar, Traditional Sing & Strum Ukulele, as well asTraditional Recorder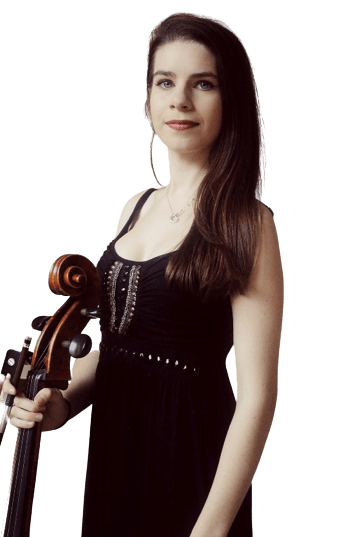 Evelyn Searle

Evelyn Searle is a Melbourne-based freelance Cellist and Cello teacher. She completed her Bachelor of Music at the Melbourne Conservatorium of Music in 2015 and graduated with Honours in Music Performance from Monash University in 2017.
She has performed as Principal cellist with the Nicolas Chamber Orchestra and the Australasian Orchestra, as well as performing with the Australian Conservatoire de Ballet Orchestra, Millennium Opera Company, Forest Collective and as a member of numerous other smaller ensembles. Evelyn also worked with New Zealand producer OPIUO for his Melbourne Syzygy Orchestra performance,  performed in the orchestra for Synthony's Australian tour and is a member of Melbourne funk band Dufresne. She has been a  participant in the Australian Youth Orchestra and Chamber Players programs, as well as the Australian International Symphony Orchestra Institute. As well as teaching privately, Evelyn teaches at Kilvington, Strathcona Girls Grammar and Leibler Yavneh College where she also works with small student ensembles.
Evelyn has also had the opportunity to tutor cello sections at State Music Camp.
She is currently in the final stages of completing her Suzuki Primary level accreditation. She also has students performing through the AMEB syllabus.
Her Music Works Magic students perform in our End of Term Concert each term supported, and often accompanied, by Evelyn.
Evelyn teaches Suzuki and Traditional Cello

Jude Hill

Jude Hill is currently studying Double Bass at the University of Melbourne Conservatorium of Music. His teachers have included Jill Griffiths, Rob Nairn, and Emma Sullivan. Jude performs in a wide range of styles including Classical, Jazz and Early Music. As an electric bass player, he is adept in performing contemporary and musical theatre. Jude is a member of the Conservatorium Symphony Orchestra and Principal Bass of the Philharmonic Orchestra and has taken part in extracurricular Early Music projects at the conservatorium.
Jude began his musical studies as a member of Young Voices of Melbourne and has had extensive choral training in solfege and using the Kodaly method since 2008. He is currently a member of Exaudi choir conducted by Mark O'Leary OAM, with whom he has toured across Australia and Japan.
 Jude has performed with the Yarra Ensemble, Melbourne Baroque Orchestra, Australian Discovery Orchestra and as Principal Bass with the Stonnington Symphony Orchestra. He is passionate about sharing his love of music in a wide range of styles, as well as giving students a firm technical and theoretical foundation which will enhance their further progress.
 Jude teaches Double Bass

Hannah Wolfe

Hannah Wolfe has been playing cello since she was 4, and as such, music has been a very large part of her life since before she can even remember.
Throughout high school she played in several orchestras and now enjoys a position with the Percy Grainger Youth Orchestra. Hannah also sings with the Victorian Youth Opera and Concordis Chamber Choir as music continues to be an important part of her life.
Having enjoyed years of Cello Suzuki method tutelage, Hannah is currently completing her primary accreditation as a Suzuki cello teacher and is also in her first year at Monash University studying Engineering. We welcome Hannah to the Music Works Magic team.
 Hannah teaches Suzuki Cello

Harry Nguyen

Harry is a classically trained violinist with more than 15 years of experience and is currently finishing his musical education at the Melbourne University Conservatory of Music, specialising in performance under the tutelage of Melbourne Symphony Orchestra violinist Oksana Thompson and professional solo violist, Wenhong Luo.
Having experienced a wide range of musical styles, from Bach to Barber, and performance opportunities with the MSO, Harry is equipped to fuel his passion for music by guiding his students to reach their goals, and also develop their own passions and love for music.
Harry's teaching aims to provide an outlet for musical expression supported by a stable technical foundation, facilitated by learning that is informative as it is engaging, making sure each and every student knows what they're practicing and what goals they attain, whether it be technical dexterity, quality of sound, or musical expression.
The end goal for every student is not only the development of technical ability and expression, but also encouraging a warm learning environment which fosters a greater love for music and being able to express it through each student's performance. Whether it be for leisure, or for vocation, each student will reach their desired level of proficiently at their own pace and understand and most importantly, enjoy what they play. Harry is most familiar with the AMEB system of progression and encourages students to take part, alongside the Suzuki Method but is open to other syllabi, depending on the students' requests and needs.
 Harry teaches Violin and Viola

Meredith Connie
Meredith Connie is a teacher, performer and composer on the classical guitar.  At Music Works Magic she teaches guitar using the Suzuki philosophy and works with children as young as three.  She has extensive training through the Suzuki Association of the Americas, having reached advanced accreditation.  In addition, she holds a Masters in performance from the San Francisco Conservatory of Music and a diploma in Alexander Technique.
Meredith participates with her students in recitals every term, creates performance opportunities for students as a part of Melbourne Suzuki Guitar Ensemble, and has experience taking students through to successful auditions at a University Level.
 Meredith is a teaching member of the VMTA (Victorian Music Teachers Association), SAA (Suzuki Association of the Americas), AUSTAT (Australian Teachers of the Alexander Technique), and a composer member of the AMC (Australian Music Centre).  
Meredith teaches Suzuki Guitar

Samuel Ke

Samuel is an enthusiastic and passionate violin and viola teacher with many years of performing and teaching experience. He is a recent Bachelor of Music (Honours) graduate from the Melbourne Conservatorium of Music, and studied whilst being supported by the Corinna D'Hage Mayer String Scholarship.
During his time there he took part in many performance opportunities and ensembles, including the University of Melbourne String Ensemble, the University of Melbourne Symphony Orchestra, as well as various other chamber groups.
Samuel has many years of teaching experience in both group and individual settings, whether it be in-person or online.  He is equally comfortable teaching all ages and levels. He believes that every student has the potential to do well, and it is his responsibility to find the right environment and encouragement in order to allow them to achieve their best and have fun along the way!
Sam teaches Traditional and Suzuki Violin and Viola

Soul Kramkimel

Soul Kramkimel has been a musician for over 20 years, specialising in Guitar, the art of improvisation, solo performance and song writing.
He is a multi-instrumentalist, having studied and played: guitar, bass, saxophone, piano, clarinet, violin. He has also studied improvisation, music theory, reading/writing sheet music and tablature.
He has enjoyed performing in orchestras, ensembles, bands as well as solo across all genres; blues, rock, funk, jazz, pop, metal, classical and world music, Australia wide and Internationally.
Soul has worked as a recording mixing/mastering engineer, producer.  He is a composer, having written for independent artists, as well as the film/video game industry. He has a strong understanding of music software and composition using virtual instruments.
Soul takes a unique approach to opening his students eyes and ears to the potential pathways music can take you in your life and guide students on how to get there and we welcome him as guitar and composition teacher at Music Works Magic!
Soul teaches Guitar