100% Organic Music



Music Works Magic develops life-long musicality in children through a high quality, magical music program which offers 100% Organic Music, for the first five years of a child's life.
Our fun weekly classes are carefully designed to gently encourage each child to find their own special voice – their very first musical instrument. Our highly trained and experienced teachers sing, dance, share musical stories, play games, evoke musical responses, use puppets and musical instruments based on a mix of the Kodaly and Music Works Magic approach to Early Childhood Music Education, as supported by the PhD research of our Director, Dr Anna Mlynek-Kalman.
Your children will grow in confidence as they experience the joys of exploring their voices and expressing themselves creatively through song, while reaping all the benefits our program provides for their brain development. Come in for a LIVE and INTERACTIVE trial now!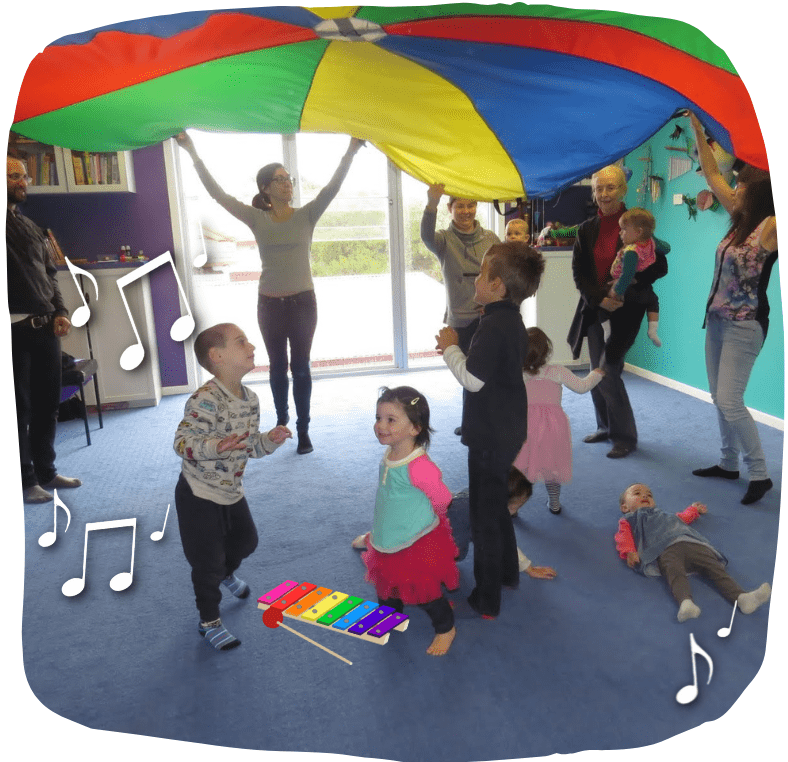 What you will need
For in-person classes you will need a themed pack of instruments and props (with bells, shaker, peek-a-boo scarf, wrist ribbon, shiny star, kazoo, claves, and bouncy ball) your singing voices, smiling faces and a readiness to participate. Come and join the fun together in our COVID-Safe Rainbow Room in Elsternwick.

For online classes, in addition to the items listed above you will need a computer, tablet or phone with webcam and microphone (although computer works best) with a solid internet connection. You may also be asked to have a number of household items ready for class each week (such as a laundry basket). Come and have music fun together from the comfort of your own home.

ENROLLMENTS NOW OPEN for Term 4, 2023:
Mon 2nd October – Fri 15th December (11 weeks)

2023 Term Dates

Term 1
Mon 30 Jan – Thur 6 April

Term 2
Mon 24 April – Sat 24 June

Term 3
Mon 10 July – Fri 15 Sept

Term 4
Mon 2 Oct – Fri 15 Dec

Class Times*
Monday to Friday
9:15am | 10:15am

11:15am | 12:15pm
3:15pm
* classes run with minimum numbers

Limited Numbers per Class
The Benefits of Group Music Experiences
Awaken active listening skills and a keen 'ear'.
Develop the ability to hear tunes inside one's head and provide the foundational experiences for 'thinking sound'.
Improve concentration, acquisition of language, numeracy and memory.
Nurture your child's ability to follow instruction, focus and problem solve.
Enhance self-esteem through discovery and mastery of each individual's very own musical instrument—the singing voice. This leads to growth in identity and self-confidence in a supportive setting.
Encourage experiences of joyful vocal play, creative self-expression and performance.
Enhance social skills through positive interactive opportunities with other children and adults in a warm, nurturing and cheerful environment.
Build foundations for an appreciation for the beauty of sound, creating concert audiences of the future.
Foster both gross and fine motor skill co-ordination within a music and dance environment.
Create strong foundations for the enjoyment of Music For Life as we immerse children in a variety of children's music repertoire and music of other varied genres.
Create lifelong memories of your music making time together.
Payment Details



Term Fees

 
As a provider of quality music education, Music Works Magic enrolments are on a consecutive week-by-week basis – we run classes in line with the Victorian School Terms. Your fee is calculated based on a weekly rate plus the Booklet and Recording* (digital download with CD available) of the music you are singing live in class each week.

Trial Classes



Knowing from experience that it generally takes a number of sessions for young children to familiarise themselves with new programs and new people, in a new environment, we offer those wanting to 'see how their child goes' a once-off 3 week trial so that they have a chance to become comfortable and participate in our live and interactive class. It is important to note that during both our in-person and online classes the children will be interacting with the adult who is with them in the room as well as the class teacher and classmates. Children learn in many different ways. Some children need to move around and explore the room or space, others will sit and absorb like giant sponges, while yet others join in actively for the entire session. It doesn't matter how your child learns, it is important that you immerse them into the musicking, model for them and play the music at home too.
Class Passes
Students can join our program once term has started with the purchase of a consecutive week class pass. These passes are to be used for consecutive week music classes, continuing through the Holiday Program and into the following term as appropriate. We do have a process for putting class passes on limited holds, please discuss you circumstances when you book in.
Extra Classes / Siblings



For those that would like to further grow their child's musical intelligence we offer a 10 week second class pass for a significantly reduced fee. Similarly, siblings are welcome to join in our live and interactive sessions for the term at a discounted rate.
Themed Pack



Each term we sing a different thematic set of songs. In term 4, 2023 we are travelling around Australia, singing and dancing with all the wonderful bush animals we meet. Our themed pack includes a set of small instruments (bells, shakers etc.) and props (ribbons, peek-a-boo scarf etc) that we use throughout the term in our weekly classes. You are welcome to use your own instruments and props, or you can purchase one of our Class Props Bags with your enrolment. The "Swing It Possum" Booklet* and Recording (digital download) is a highly recommended option with your class fee.

* All profits go to 'Learning4Life – Autism Centre' and with the help of our parents,

Music Works Magic

also proudly supports Breast Cancer Research.
P

lease Note:

Music Works Magic has a strict no refund policy once payments are confirmed. Please contact the office with any questions in regards to this policy.

Group Class for 0-6yo Expression of Interest Form