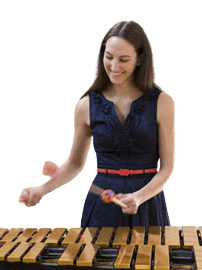 Kaylie Melville
Kaylie Melville (M.Mus) is a Melbourne based percussionist noted for her "extraordinary ability to impart a sense of musicality to even the smallest gestures" (Partial Durations). Kaylie is the Assistant Artistic Director of Speak Percussion, co-Artistic Director of the contemporary ensemble Rubiks Collective and frequently works with leading Australian ensembles and orchestras. In addition to performing, Kaylie's practice incorporates improvising, directing, curating and teaching. 
Kaylie's festival appearances include the Metropolis New Music Festival, Bendigo International Festival of Exploratory Music, Melbourne Festival, Adelaide Cabaret Festival, Salihara Festival (Indonesia), and the Percussive Arts Society's International Convention (US). Kaylie has also participated in a number of prestigious new music courses including the inaugural Eighth Blackbird Creative Lab (USA, 2017), Darmstadt Summer Course for New Music (Germany, 2016), Bang on a Can Summer Festival (USA, 2015) and So Percussion's Summer Institute at Princeton University (USA, 2013). 
Kaylie was one of the first percussionists admitted to the Professional Performance Program at the Australian National Academy of Music, and holds Master of Music (Research) and Master of Music Studies qualifications from the University of Melbourne. She completed her undergraduate studies at the University of Western Australia, where she earned a Bachelor of Music (Honors) and a Bachelor of Arts with majors in French and English Literature.
Kaylie has taught privately and in schools for over fifteen years, working with students of all ages as a music tutor and ensemble director. Kaylie is also the co-ordinator of Speak Percussion's acclaimed Sounds Unheard education program, introducing Victorian students to innovative and experimental approaches to music making.
 Kaylie teaches Traditional Percussion and Drums

Therese Ng

Therese Ng holds a Master of Music (Performance Teaching) and a Bachelor of Music (Honours, 1st Class) from the University of Melbourne, and is currently pursuing a Master of Teaching at the Australian Catholic Univeristy.
As a young and passionate percussion performer, Therese was awarded 1st Prize in the ENKO International Music Competition (2018), 1st Prize in the Australia Marimba Competition (2017), 2nd Prize in the Concerto Competition for Melbourne Conservatorium of Music (2016), to just name a few. Therese's recent performance highlights include duo recital Passion with pianist Chris Wong in Melbourne, her sold-out solo recital concert Take Me Home in Hong Kong and solo recital performance at Inc. Percussion Days in Tokyo.
Therese has studied with Keiko Abe (2019), Kuniko Kato (2016-2018), Steve Falk (2012-2019), Peter Neville (2013-2016), Tony Floyd (2018-2019) and Dr Lung Heung-Wing (2008-2010). She continues to share her love for music as a passionate percussion educator to students across Melbourne.
Therese has been teaching classical percussion and drum kit for over 6 years. Schools that she has worked at include Mac. Robertson Girls' High School, Scotch College, McKinnon Secondary School, Methodist Ladies' College, the Australian Percussion Academy, and more. Therese is fluent in English, Mandarin and Cantonese.
Therese works with students of all ages and levels and loves incorporating fun activities into her lessons. She highly values authenticity in music and is dedicated to helping her students develop their unique performance styles and reach their full potential.
Therese teaches Traditional Percussion and Drums