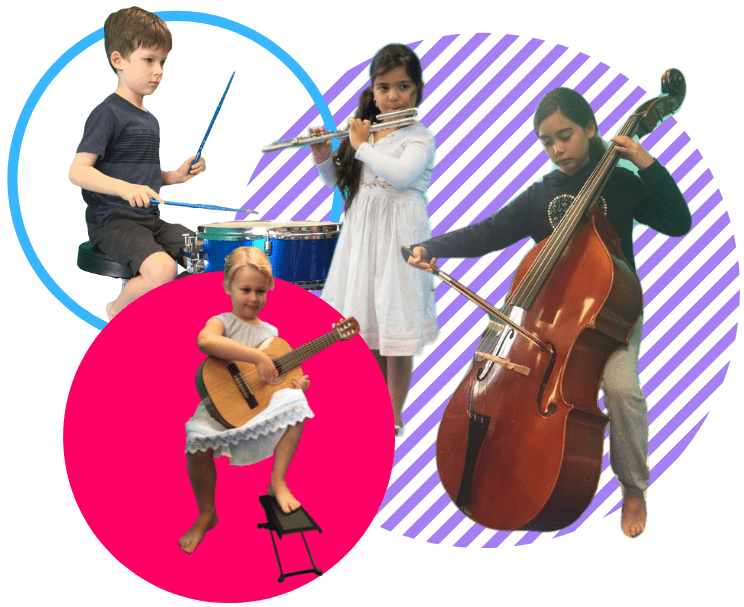 THE MUSIC WORKS MAGIC DIFFERENCE
♪ Process precedes Product
♪ Listening and absorbing music must happen before tuneful singing can occur
♪ Involvement in interactive group music making is the foundation for playing an instrument

We have a huge range of Instruments, Picture Story Song Books, Educator Resources, Children's CD's, Puppets, Giftware and Sheet Music.
From the latest research findings to fun and easy games to help with music practise, read it all here in our BLOG.
Music for Life
Even before a child learns to speak, they learn to communicate and connect with song and sound. Children respond naturally to music. Some suggest that babies are born with inherent musical capabilities because their responses to music are immediate and instinctive: they are not learned.
While every child can enjoy, learn and grow through music, there is increasing evidence to show that active participation in musical activities can actually alter the anatomy and development of the brain. Researchers believe that early musical experiences intensify the development of neuronal synapses. By increasing the number of interconnections between brain cells, music essentially enhances a child's ability to think, learn, reason and create.
Your Musical Journey Starts Here!
Beginning with pre-natal classes from 24 weeks, encouraging in-utero bonding while building mum's singing and music-making confidence. These classes also establish a sound understanding of a child's musical development and the benefits to life-long learning.
Your Musical Journey Starts Here!
We build your child's confidence and listening skills through live singing and interactive music experiences.
Your Musical Journey Starts Here!
Our programs build confidence through movement, dance, observation and vocal self-exploration. Good listeners are good learners.

Your Musical Journey Starts Here!
Pre-Instrumental classes from newborn encourage students to explore body and voice, our first instruments, through live song, movement and dance.
Your Musical Journey Starts Here!
Music Works Magic is the fun way to help raise brain IQ (up to the age of 7). Our teachers understand how valuable musical experiences are for brain development, bonding processes and lifetime learning abilities. We also recognise that our older students receive a multitude of life-long benefits from their musical experiences.

Your Musical Journey Starts Here!
Instrumental tuition can begin once the young student has control of his/her first instrument and is singing in tune (from age 3+). We understand that without good foundations of a listening ear and effective pitch matching, learning an instrument is just mechanical.

Your Musical Journey Starts Here!
Our programs prepare students for a lifetime of musical enjoyment. Whether as audience members or musicians, we thrive on building good musical foundations for children and adults alike.
Your Musical Journey Starts Here!
Our Magic Voices Children's Choir provides an opportunity for those aged 6-12yo who wish to find or further develop their vocal skills. Discover the fun of creating wonderful harmonies and singing with friends, in a social atmosphere incorporating dance, movements, games, music education and performance opportunities.

Your Musical Journey Starts Here!
Memorable Music Parties themed to your child's interests ensure a fun Birthday event for all who attend. We provide the trained music teacher, the venue, the invitations, and even the take-home party bags for each guest. Take home your presents and leave the mess for us to clean up!

Your Musical Journey Starts Here!
Educator training and support is a valuable part of what Music Works Magic prides itself on providing with excellence. Over 30 years of training, educating and training the educators enables our Director, Dr. Anna Mlynek-Kalman, to share a wealth of theory, resources and music repertoire, designed to build the educator's confidence and capabilities.
Music Works Magic has been a wonderful introduction to my daughter's musical education. Anna is so engaging and enthusiastic, we look forward to the classes every week.
I just wanted to say a huge thank you for all your efforts with celebrating Alice's birthday yesterday, she was so chuffed & it meant a lot.
… she was beaming away and kept saying 'that's for me' with proper glee.
Lockdown birthdays are so hard so I really appreciate you going the extra mile to make her feel special
Thank you for sharing your wealth of knowledge and passion for quality education with us. I have been motivated to try new things musically with our children that I would not have dreamt possible. You have had and enormous influence on our music making or 'musicking' as you refer to it.